2018/12/13
スペイン、バルセロナで行われるART FAIRに参加します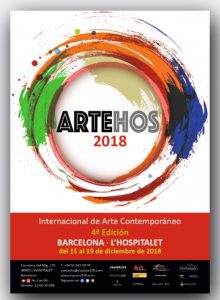 スペイン、バルセロナで行われるアートフェアに参加します
今週の12月15日(土)~12月19日(水)までです
I will participate a art fair in Spain.
Start from 15th to 19th December, 2018.
It was late about information. Because my picture was stopping at customs in Spain. I hadn't know whether it could be exhibited. But it passed customs.
If you go to Barcerona, come to there, please.
Location ;
Ctra. del Mig, Nº 120, 08907 Hospitalet, Cataluna, Spain
lun – sáb: 10:00 – 19:00
+34 932 615 999
contacto@espacio120.com
art fair web site ;  http://www.espacio120.com/
Contact of the my art work to be sold ; Art Nou Mil.lenni Gallery  ( Barcelona, Spain )
Art Nou Mil.lenni Gallery web site ; http://www.artnoumillenni.com/art/welcome/